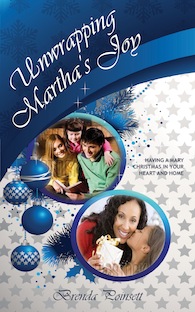 My friends say with a name like Poinsett (almost a flower!), I'm a natural for celebrating Christmas, and indeed I am. I love to have people in my home to celebrate Jesus' birth, but this is not to say, I don't get frustrated at times. In this way I'm like Martha—the woman in the Bible who invited Jesus into her home and then got upset by all the work she had to do. Yes, I'm an imperfect host but I've learned imperfection doesn't stand in the way of having a "Mary" Christmas. That's why I wrote Unwrapping Martha's Joy: Creating a Mary Christmas in Your Heart and Home.
In this book, I write about Christmas from a homemaker's point of view. I know, I know, not many women refer to themselves as homemakers these days, but I do. My home is an extension of who I am. If my kitchen is in disarray, then I'm in disarray!
I like to invite others into my home especially at Christmas, and I want Jesus to be present too. I want both a Martha (company's coming!) and a Mary Christmas. Mary was Martha's sister who got to sit at Jesus' feet and learn from him. I want to see him and to experience him, and this book reflects on some of my experiences. The reflections will assure you that you don't have to be perfect to have a Mary Christmas.
Here's what Page, a woman who lives in Kentucky, said about Unwrapping Martha's Joy: "It is super relevant to all women whether they are working, working at home, retired or anticipating a new season of life. It is so easy to get wrapped up in our "real life" and miss what God is doing right around us. I loved the illustrations from Brenda's 'real life' that allowed me to hurt with her and others as well as rejoice in all God was and is doing. As a "party girl" like Brenda, I praise God that He reveals Himself to plain ole girls seeking Him."
Page connects with me because we're both "party girls" and "plain ole girls." Yes, we're both homemakers who like to entertain, and we both make sure we invite Jesus to join our celebrations.
Price: $12